The type of marketing that works best depends on a number of things, like the audience, industry, budget, and business goals.
But some of the most effective ways to market your business are:
Content marketing

is making content that is useful and interesting to your target audience and brings them to your website.

Search engine optimization (SEO)

is the process of improving your website's position in search engine results pages (SERPs) to make it more visible and get more traffic from search engines.

Email marketing

is promoting your blog, building relationships, and getting people to buy from you by sending targeted and personalised emails to your subscribers.

Social media marketing is using popular social networks to promote your blog, interact with your followers, and reach a larger audience.
Influencer marketing

is a way to get your blog in front of the people who follow influential people in your niche.

Paid advertising

is when you pay for ads that reach your target audience on search engines, social media, or other platforms.
In the end, the best marketing plan for your business is one that uses a variety of strategies and is made to fit your needs and goals.
Content Marketing For B2B Businesses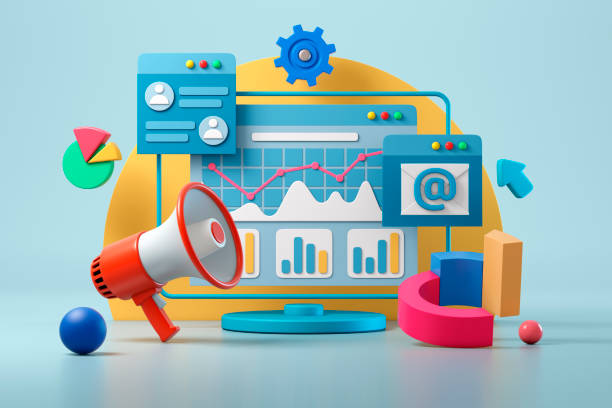 Blogging:

Blogging is a popular and effective way to get your target audience's attention and keep them interested by regularly creating and publishing useful content. This could be in the form of articles, videos, or podcasts, and it would cover a wide range of topics that are important to your business. By making and sharing high-quality content on a regular basis, you can establish your brand as an authority in your field, drive traffic to your website, and connect with your target audience.

Case studies

are a great way to show how your products or services have helped other businesses. They are often used to show the results and benefits of your products and services, as well as your knowledge and ability to solve problems. By giving real-life examples of how you have helped others, you can build trust with potential customers and help them see how valuable your business can be.

Infographics

are pictures that look good and are made to show complicated information in a way that is simple and easy to understand. They can be used to show data, statistics, or other information in an interesting and easy-to-understand way, making it easier for your audience to understand and remember it. Infographics are a popular type of content marketing because they are easy to share and can help people find your brand and visit your website.

Whitepapers

are detailed reports or guides that give expert insights and analysis on a certain subject. They are used to show that your business is a thought leader in its field and to show that you know a lot about a certain topic. Whitepapers are often used to teach and inform the people you want to buy from you. They can also help build trust and credibility with those people.

Webinars

are live or recorded events that are used to teach and engage your target audience. You can use them to show off your skills, introduce new products or services, or teach and help your customers. Webinars can be live and interactive, letting you talk to your audience in real time, or they can be recorded and shared later.

E-books:

E-books are long pieces of content that go into detail about a certain topic. They are used to show your expertise and knowledge in a certain area and build trust with your target audience. You can use e-books to teach people about a certain topic or to promote your products or services.

Email newsletters

are regular messages that you send to your subscribers to keep them up-to-date and interested in your brand. You can use them to share news and updates, tell people about new products or services, or give them useful information. By giving your subscribers high-quality content on a regular basis, you can build relationships with them and make them more loyal.

Interactive Content:

Quizzes, polls, and calculators are great ways to get your target audience interested and learn more about them. By making content that is both fun and interactive, you can get your audience's attention and keep them interested in your brand. You can also use interactive content to find out things about your audience, like what they like and what they think, which can help you improve your products or services.
Influencer Marketing For E-Commerce
Identifying Influencers: To do this, you need to find people who are well-known in your target audience and have a strong online presence. These people should share the same values as your brand and be genuinely interested in your goods or services. You can find possible influencers with the help of online directories or tools for analysing social media.
Product Reviews:

Getting influencers to review your products is a good way to reach their followers and get good feedback. Influencer reviews can help build trust and raise awareness of a brand. You can give influencers free samples of your products or pay them for their time and work.

Sponsored Posts:

When you pay influencers to write and share posts about your products or services, this is called a sponsored post. This can be a cheap way to reach a large group of people who are interested. Followers will be more interested in sponsored posts that are well-written and look good.

Contests and giveaways:

Running contests and giveaways in partnership with influencers can help spread the word about your brand and get people to interact with it. You can use these campaigns to thank loyal followers and build a sense of community around your brand. Influencer-led contests can also help your brand connect with the people who follow the influencer.

Brand Ambassadors:

Working with influential people to become brand ambassadors can be a powerful way to promote your products and reach a wider audience. Brand ambassadors should love your products and have a close relationship with the people who follow them. You can encourage them to spread the word about your brand by giving them exclusive products or discounts.

Influencer-generated content:

Asking influencers to make original content about your products can show their unique point of view and help their followers trust them. Influencer-made content can also help spread the word about a brand and get people involved.

Influencer-hosted events:

Working with influencers to host events can give their followers a full brand experience. These events can be used to introduce new products, show off existing ones, or give influencers a place to meet their fans.

Campaigns that are led by influencers:

Running campaigns that are led by influencers can help you reach more people and promote your products. Influencer-led campaigns can be used to raise awareness of a brand, get more people involved, and make sales. To make sure these campaigns work, they should be well-planned and carried out.
Social Media Marketing For Startups
Analytics and Reporting:

Keeping track of and analysing how well your social media campaigns are doing so you can see how effective your strategies are and make smart choices for future campaigns.

Integration with Other Marketing Channels:

Adding social media to your overall marketing plan so that it works with your other marketing efforts and helps you reach as many people as possible.

Engagement and Interaction:

Getting your audience to engage and interact with you through replies, comments, and promotions in order to build relationships and get more sales.

Social Media Management Tools:

Using tools to streamline and automate your social media work to save time and resources.

Trends and Algorithm Updates:

Staying up-to-date on the latest social media trends and algorithm updates will help you change your strategies and make sure you keep doing well.

Reputation management

is keeping an eye on and taking care of your online reputation to make sure your brand has a good name.

Creative and Visual Storytelling:

Using creative and visually appealing stories to engage your audience and build a strong brand identity.
Email Marketing For Non-Profits
List building:

If you want your email marketing to work, the first thing you need to do is build a list of targeted email addresses. This means finding people who are likely to be interested in your organisation, like supporters, donors, and volunteers, and getting them to join. You can do this in a number of ways, such as through opt-in forms on your website, events, and social media campaigns.

Once you've made your email list, it's important to divide it into groups based on things like the people who have donated, their interests, and where they live. This lets you customise your messages and make sure that each subscriber gets information that is useful to them. For example, you could make different lists for donors, volunteers, and supporters and send each group a message that is just right for them.

Content Strategy:

If you want your emails to work, you need to make sure you have a content strategy. This means figuring out what your audience wants to hear and how you can make sure your message fits with the goals of your organisation. Your content should be interesting, helpful, and motivating, and it should have a clear call to action.

Campaign Planning:

An important part of your email marketing strategy is to plan and carry out email campaigns. This means making a schedule for your email sends, deciding on the content and message for each campaign, and deciding how you will measure the success of each campaign.

Personalization:

Making your emails more relevant and interesting is a great way to use personalization. This can be done by using the person's name, location, and interests to make the experience more personal. For example, you could use each person's name to start the email and mention their city.

A/B Testing:

With A/B testing, you send two versions of the same email to different people on your list to see which one does better. This lets you improve your email campaigns over time and get more people to engage with them and buy from you.

Automation:

Email automation lets you streamline and improve your email marketing efforts. This can include sending welcome emails to new subscribers automatically, sending emails based on how subscribers act, and sending follow-up emails automatically.

Reporting and analysis:

It's important to measure and analyse the results of your email marketing campaigns so you can make decisions based on data and keep improving your strategy. This can include tracking the number of opens, clicks, and conversions, as well as using tools like Google Analytics to see how well your emails are doing.
Search Engine Optimization For Local Businesses
Search Engine Optimization (SEO) for local businesses is the process of making your online presence more visible in local search results.
You can improve your local SEO by doing the following:
Claim and verify your Google My Business listing

. This is a key step in local SEO, and it lets you control the information Google has about your business.

Include local keywords in the content of your website:

Use keywords that include your city, state, or region to show search engines that your business is relevant to local searches.

Encourage your customers to leave reviews online.

Positive reviews can help your local search ranking and make your business more visible to people who might want to buy from you.

Get your business listed in local directories and citation sites.

Yelp, TripAdvisor, and Apple Maps are some examples.

Optimize your site for mobile devices.

More and more people are using their phones to look for local businesses, so it's important for local SEO that your site is mobile-friendly.

Utilize schema markup:

This is a type of code that tells search engines what your website is about and helps it show up higher in search results.

Build good backlinks.

Getting links from websites with a lot of authority can show search engines that your website is a reliable source of information.
Remember that SEO is an ongoing process, and for local SEO to work, you have to keep working at it over time.
Pay-Per-Click Advertising For Saas Companies
Pay-per-Click (PPC) advertising is a popular method for SaaS (Software as a Service) companies to drive targeted traffic to their websites and generate leads. 
Here are some steps to get started with PPC advertising for SaaS companies:
Define your target audience:

The first step in making targeted ads is to figure out what your ideal customer is like. To do this, you need to know the demographic, geographic, and psychological traits of the people you want to reach. Market research, customer surveys, and looking at a website's analytics are all ways to find this information. Once you know who your target audience is, you can use this information to make ad campaigns that are geared towards their needs, interests, and ways of acting.

Choose the right PPC platform.

Google Ads, Bing Ads, and LinkedIn Ads are some of the PPC platforms that SaaS companies can use. Choosing the right platform will depend on the people you want to reach and how they use the Internet. For example, LinkedIn Ads may be the best choice if your audience is mostly B2B, while Google Ads is a popular choice for B2C companies. Before making a choice, it's important to do your research and find out what each platform has to offer.

Make ads that people want to click on.

The success of your PPC campaigns depends on how compelling your ads are. Your ads' headlines and descriptions should get the attention of the people you want to reach and make it clear what your SaaS solution can do for them. Use words that get people's attention, highlight what makes your product special, and include a clear call to action to get people to buy.

Use landing pages.

Landing pages are pages that are set up specifically to help your PPC campaigns. They should be set up so that users have the best experience possible and have a clear goal of turning visitors into customers. Use landing pages to tell people more about your product, highlight its benefits, and make it clear what they should do next.

Set a budget and a bid strategy.

This is an important step in managing your PPC campaigns. Set a daily budget and decide how much you're willing to bid on certain keywords. This will help you keep track of how much you spend and make sure that the right people see your ads at the right time.

Check on your campaigns and make changes to them.

The success of your PPC campaigns depends on how often you check on and change them. Use performance data to find ways to improve, like changing bids or ad copy or trying out new keywords. This will help you make the most of your campaigns and get the best results possible.

Use conversion tracking.

This is a powerful tool that lets you measure how well your PPC campaigns are doing. Use conversion tracking to find out which ads work well and which ones need to be changed. This information can help you make decisions based on facts and get the most out of your campaigns.
Remember, PPC advertising is just one piece of a larger marketing strategy for SaaS companies, and it's important to understand the role it plays in your overall marketing efforts.
Affiliate Marketing For Bloggers
Affiliate marketing is a common way for bloggers to make money from their content and make money while they sleep.
Here are some ways to get started with affiliate marketing:
Pick a niche:

Choose a topic you know a lot about and are interested in to make it easier to find affiliate programmes that fit.

Find programmes to join:

Look for affiliate programmes like Amazon Associates, Commission Junction, or ShareASale that are related to your niche.

Join programmes for affiliates: Once you've found relevant programmes, you can apply to become an affiliate and start promoting products or services.
Make sure the content is good:

Write blog posts or make videos that give your audience useful information and include links to your affiliates.

Get your audience interested:

You can get more people to read your blog by posting good content regularly, interacting with your audience, and promoting it on social media.

Follow your progress:

Use tracking tools or analytics to keep track of your affiliate sales and figure out what's working and what's not.

Keep your audience in mind.

You should always put their needs and interests first and only promote products or services you think they will find useful.
Affiliate marketing is a long-term strategy that requires consistent work to build a loyal audience and drive affiliate sales. It's also important to be honest about your affiliate relationships with your audience.
Video Marketing For Restaurants And Food Brands.
Video marketing can be a powerful way for restaurants and food brands to connect with their target audience and promote their products and services.
Here are some ways to get started with video marketing:
Figure out your goal:

Decide what you want to accomplish with your video marketing, such as promoting a new menu item, building brand awareness, or showing off your cooking skills.

Know who you're writing for:

Find out what kind of people your audience is made up of and write content that speaks to their interests and needs.

Pick the best platform:

YouTube, Instagram, and Facebook are all popular places for restaurants and food brands to market their videos.

Make content that looks good:

High-quality videos that show off your food and the atmosphere of your restaurant can help get people interested and engaged.

Utilize social media:

Share your videos on social media and ask your followers to share them and talk about them.

Make your videos easy to find:

Use keywords and descriptions that accurately describe your content and make it easy for potential customers to find your videos.

Measure your success:

Use analytics tools to track how many people are watching your videos and find places where you can improve.
Video marketing is just one part of a bigger marketing plan for restaurants and food brands, and it's important to think about how it fits into your overall marketing goals.
We are sorry that this post was not useful for you!
Let us improve this post!
Tell us how we can improve this post?